Welcome to Drushti
A sculptor and a Retina specialist have one thing in common that both of them give beautiful vision with their art to a seemingly inconspicuous beginning.
With his training at world renowned Sankara Nethralaya, with ever increasing base of patients of all strata; Dr. Vatsal Parikh decided to move from his earstwhile clinic at Pedder Road to a better and bigger place and this gave the birth to present Drushti Eye & Retina Centre located at Opera House, South Mumbai.
Over the years the centre has earned the reputation of being the best retinal centre for its scientific work with humane touch where even fellow eye surgeons as well as retinal surgeons send their complicated cases for treatment.
The centre has the best of equipments for routine eye treatment and specializing in modern retinal treatment. It has excellent digital records of all patients, a must for clinical research with the help of dedicated hospital management systems; having ISO certification much earlier.
It is the dedication, commitment and concern for eye patients that has made the centre, a trusted institution where modern eye care technology meets humanitarian healing at affordable price.
About Doctor
Dr. Vatsal S. Parikh
M.S., D.O.M.S., F.C.P.S.
Fellow Snakara Nethralaya
(Chennai)
News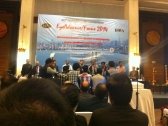 Dr. Vatsal Parikh was awarded SIGNIFICANT ACHIEVEMENT AWARD
Dr. Vatsal S. Parikh Was Invited As Guest Of Honour
Dr. Vatsal S. Parikh delivered a lecture at IMA Mangaon (Raigad district) on 22-12-2013
Dr. Vatsal S. Parikh was chairman & Moderator at VRSI Annual conference at Lavasa.
Dr. Vatsal S. Parikh gave a lecture at VRSI Annual meeting 2013 at Lavasa on 14-12-2013
Dr. Vatsal Parikh gave a lecture on Endophthalimitis, the fear at ADvanced Eye Institute conference on 1/12/2013
Dr. Vatsal Parikh attended AAO annual meeting , New Orleans 2013
Dr. Vatsal Parikh presented case series on macular hole in Retina CME in Mumbai Retina Group on 10/11/2013
Dr. Vatsal Parikh was a Judge in MOSCON 2013 for free papers session.
Dr. Vatsal Parikh gave a guest lecture at Moscon 2013 nagpur
Dr. Vatsal Parikh attended ESCRS 2013 meeting in Amsterdam till 09/10/2013
Dr. Vatsal Parikh presented 2 challenging retinal cases to a group of retinal specialists on 29/09/2013 organised by...
Dr. Vatsal Parikh gave lecture and hans on workshop to postgraduate optometry students on 28/09/2013
Dr. Vatsal Parikh attended the Advanced Vitreoretinal technique course at Kolkatta on 21/09/2013
Dr. Vatsal Parikh gave lecture at Visnagar North Gujarat on Retinal Update
Dr. Vatsal Parikh presented a case of management of postoperative recurrent vitreous haemorrhage at Bangalore in...
The best retina doctor in Mumbai adjudged by Internovation Inc study
Dr. Vatsal Parikh Performed two Retinal Surgeries in Live demonstrations on 28-07-2013 At MGM Medical Collage...
Gave Lecutre on Advances in PVR Management on 03-08-2013 for Bombay Opthalmic Association
Gave Lecture on Drop in vision after Anti-VEGF Inj.-Managing the eye and patient on 03-08-2013 in Bombay Opthalmic...
Chairperson for free paper session on 02-08-2013
Lecture for North Gujrat Opthalomologistsbat Visnagar on 18-08-2013
Interview of Dr. S.S.Badrinath on 21-07-2013
Lecture for eye doctors at Vapi
PG lecture at Rotary eye institute in Navsari on
Lecture for south Bombay Opthalmologist organised by Cipla Pharmacutical on 23-06-2013
Dr. Vatsal S. Parikh presented an interesting video and was chairperson for surgical session in VR Challenging cases...
Dr. Vatsal Parikh presented a surgical video of the toughest trauma case in Retnnet meet in Mumbai
Recepient of Vocational Excellence Award
Videos